Chicago
E-Scooters in Chicago: A Cautionary Tale
"Disruption" is one of the tech world's most beloved buzzwords.
Innovators are constantly seeking to "disrupt" industries, and their efforts are often welcomed eagerly and unquestioningly. This hunger for disruption seems to be driven by the belief that technology alone holds the key to societal progress. However, technology carries its own set of problems, and when left unchecked and unexamined, can encode into society biases favoring some interests over others. No phenomenon highlights these tensions quite as clearly as the e-scooter phenomenon. Cities across the US have been dealing with companies 'disrupting' transportation by implementing their scooters systems overnight, without consulting authorities. Some hail this as an innovative solution to the inequalities and adverse environmental impacts of transportation. Yet others point out the new problems these scooters introduce in safety and barriers to accessibility. One thing is for sure - this technology will affect our society in both intended and unintended ways, and giving it free reign in the name of "technological progress" without thoughtful discussion is unwise at best, catastrophic at worst. This paper seeks to understand the values and attitudes that have shaped the implementation of e-scooter technology in Chicago, and their subsequent impact on society. In the process, we will also examine the interplay of public policy and technological advancement, and the politics embedded in society's interaction with technology.
Private Choices, Public Implications: The dangers of "technology first"
As technology becomes more pervasive, companies amass greater power to influence society, and to do so possibly without oversight. In her book "Race after Technology", Benjamin points out that private industry choices are increasingly becoming public policy decisions (Benjamin, 2020). E-scooters are a prime example of this phenomenon - many cities have been frustrated by the "arrive first, ask later" approach of e-scooter companies, where authorities are forced to write legislation in post banning or regulating the use of these scooters (Irfan, 2018). The roll-out strategy of these e-scooters were private company decisions, but the consequences were borne by the public. The private sector often defends its choices and roll-out strategy as rooted in "design-thinking" and technological best practices. However, designers are humans with biases too, and may inevitably overlook the interests of others not like them. Allowing technology to influence public policy without caution may allow biases in private technologies to become unwittingly encoded into policy. Many e-scooters introduced in cities without warning were found to be obstructing public pathways, presenting danger to those who are less mobile (Fig 1). Scooters that operate silently are also dangerous to the visual and hearing-impaired when used on pedestrian walkways. The dangers of idealizing the value of "design thinking expertise" is in erasing the agency and concerns of those who aren't the designers, in this case, the disabled community (Benjamin, 2020).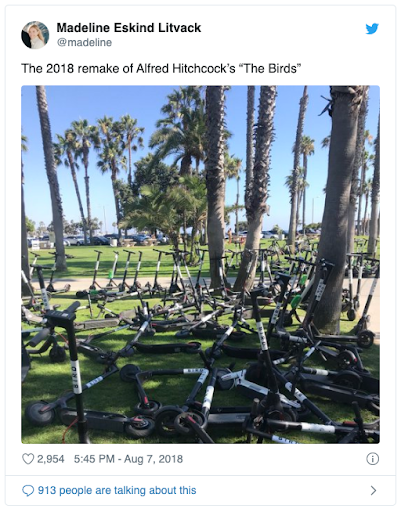 Fig 1- Scooters blocking pathways in Santa Monica after their unceremonious introduction (Irfan, 2018) Yet, these e-scooter companies seemed unconcerned about the dangers of prioritizing technological concerns over public ones in decision-making. This may stem from the ideology of "technological determinism" that some companies (and some social commentators) subscribe to, specifically that society should respond to the advance of technology, rather than technology serving society. The head of Bird UK said, "I think when you're disrupting, for better or worse, there's going to be that clash between the way things happened and the way they will happen in the future." (Laker, 2020). Transparent in this quote is the assertion that technology's march of progress is something society should accept as inevitable, and that the voices of other stakeholders are less important than those of the technology designers .
Private Solutions to Public Problems: A mismatch in priorities
The relation between private decisions and public policy extends deeper - sometimes, private technology is taken to be a viable replacement for public policy. Many people see e-scooters as an innovative solution to fill current gaps in public transportation. As one New York City commentator wrote, "Lawmakers don't have to spend a dime of taxpayer money to get access to e-scooters and to start improving local transportation. They just need to get out of the way." (Westin, 2020). Indeed, the view that the private sector can offer public solutions is an attitude that private companies actively attempt to support. E-scooter companies are eager to claim they have public interests and societal benefit at heart - even in the few days after Chicago's e-scooter pilot test ended, scooters companies like Lime have rushed to publish statistics showing their scooters increased access to the CTA (Alani, 2020). Bird and Lime have also both introduced programs discounting ridership for low-income citizens. However, the delusion that technologies are purely benevolent in their service of public policy limits our ability to protect ourselves when private and public values are misaligned. In the end, these companies are private entities. Though they may serve socially beneficial functions, their primary motivation will always tend towards what makes the most money, which may mean prioritising what will be attractive to the average user over what is best for collective goals such as equitable access to transportation, environmental sustainability, and safety of marginalized communities (Fig 2).
We can see the priorities of these companies revealed in their failure to comply with regulations regarding the distribution of scooters to underserved communities. None of the 10 e-scooter companies in the Chicago trial consistently met the requirement to redistribute scooters to priority areas each morning (City of Chicago, 2020), perhaps because redistribution requires the hiring of labour, increasing costs, or because demand for scooters is higher in wealthier neighborhoods, increasing revenue. Despite a verbal promise to address "transport deserts" as a key commitment (Alani, 2020), it is obvious companies will always serve their profits first.
Private Entities with Public Power: Politics and the first-mover advantage
This is not to say that technology should be banished from the realm of public policy. To claim this would be to blatantly ignore the massive improvements in quality of life that has accompanied technology's rise. E-scooters do have the potential to fill some gaps in solving inequality in access to transport and offering eco-friendlier ways to travel. In order to fully harness the benefits of technology for the public good of its users, rather than just the private benefits of its providers, Noble proposes a two-pronged approach: more dialogue across multiple stakeholders, and more government regulation (Noble, 2018). This is indeed what Chicago has attempted with its e-scooter pilot, by consulting transportation groups, disability advocates, local chambers of commerce and community organizations. Based on this, the city was able to impose strict guidelines safeguarding the interests of disabled persons, including operational bells on all scooters and the requirement that companies develop accessibility plans (City of Chicago, 2020). This is an example of how dialogue and collaboration can promote public interests. However, to ensure the effectiveness of such collaboration, the dialogue has to occur before a technology is introduced. Once a technology becomes part of society, it conveys political power to the providers, at the expense of the users. The city of Chicago may have fined companies who failed to comply with regulations, but fines may not be as effective in the future if the city starts to become reliant on one or two major e-scooter providers. Winner highlights that "by far the greatest latitude of choice [in determining how power is structured] exists the very first time a [technology] is introduced." (Winner, 2020). After e-scooters are introduced, a cities' power to regulate these scooters becomes greatly limited (Irfan, 2018). This provides a source of hope for Chicago, who has taken a proactive approach to the introduction of e-scooters right from the start and thus may have more power to influence where e-scooters are distributed, as compared to if there was no trial.
Private Technology within Public Spaces: The limits of change
So far, our discussion has discussed the ways in which technology has the power to shape and change society, and if left unchecked, to shape it for the worse. It may suggest that as long as it is properly regulated and checked, technology can be harnessed as a harbinger of real change. However, the e-scooter trial in Chicago also provides insight on the inherent limitations of technology to change unequal systems already embedded in society, even with the best intentions. Chicago authorities made an effort to ensure equal access to e-scooters by distributing them each morning to priority areas (mostly low-income neighborhoods). However, by evening, scooters were found to be more concentrated in the richer communities of West Loop and Milwaukee Avenue (City of Chicago, 2020). (Fig 3) Ridership of these scooters was also geographically concentrated in affluent communities where there was already a high density of transport options. Rather than re-distributing power from a privileged group to a marginalized one, technology may sometimes merely reflect the power distribution already in place.

This is not new - docked Chicago Divvy bikes have been around for a long time, and studies have shown that they have not quite closed the equity gaps in transportation as initially hoped, even when tempered by government regulation. Divvy bikes are utilised less by minorities, even after the introduction of the "Divvy for Everyone" program discounting access to Divvy bikes for low-income users (Anbinder, 2020). Studies found that minorities report knowing less information about access to discount programs, safe streets, protective gear, and reassurance about liability and hidden fees (Alani, 2020). Access to technology has been unequally distributed among income groups for decades, and this inequality is only compounded with the introduction of new technologies. Divvy docking stations are also disproportionately located in richer communities (Fig 4) Affluent communities are more likely to have access to technologies, and this technology in turn increases their affluence… the end result is a vicious cycle of rich communities becoming richer, and poor communities staying poor.
Conclusion
At the conclusion of the trial, the City of Chicago presented its recommendation for the implementation of e-scooters in the city - a second trial. This caution perhaps represents the best response we can have towards the impact of new technology on society - there is reason to temper our excitement about technology's virtues, and tempering excitement will help make sure the technology doesn't ignore the interests of minorities and the public in favor of private actors or an elite few. Considering the concerns we have brought up, it's shocking how blasé engineers and even some social commentators are towards opposition to e-scooters, and how righteously indignant they are about government regulation over scooters in cities, especially where they were placed without permission. The decision-makers on how technology is implemented (and therefore how it shapes society) cannot only be private technology providers - we need governments and social groups to join the conversation too. If not, we risk encoding biases which reinforce discriminiation not only in our technologies, but in our very way of life. Technology obviously provides opportunities for real advancements in society. However, we have to be cautious of giving it too much power, lest we allow it to shape society for the worse in ways we don't intend. Yet at the same time, we must know that there is a limit to the extent technology can shape society as well, as technology too is constrained by existing social conditions, hierarchies and institutions of power. All that being said, I remain cautiously optimistic about e-scooters, as long as we continue to remain in dialogue with each other and ensure we all have a part to play in determining where we travel to next.
Works Cited
Anbinder, J. (2020). Chicago Is Making Bike Share Ultra-cheap for Poor People. Will It Matter?. Retrieved 5 February 2020, from https://tcf.org/content/commentary/chicago-is-making-bike-share-ultra-cheap-for-poor-people-will-it-matter/?session=1&session=1
Benjamin, R. (2019). Race After Technology.
City of Chicago. (2020). E-Scooter Pilot Evaluation. Chicago: City of Chicago. Retrieved from https://www.chicago.gov/content/dam/city/depts/cdot/Misc/EScooters/Scooter_Evaluation_1.29.20.pdf
Irfan, U. (2018). Electric scooters' sudden invasion of American cities, explained. Retrieved 5 February 2020, from https://www.vox.com/2018/8/27/17676670/electric-scooter-rental-bird-lime-skip-spin-cities
Laker, L. (2020). Welcome, watch or ban: how should cities deal with electric scooters?. Retrieved 5 February 2020, from https://www.theguardian.com/cities/2019/jun/18/welcome-watch-or-ban-how-should-cities-deal-with-electric-scooters
Noble, S. (2018). Algorithms of oppression. NYU Press.
Schneider, B. (2020). Bike Sharing Still Has a Stubborn Diversity Gap. Retrieved 5 February 2020, from https://www.citylab.com/equity/2017/07/what-keeps-bike-share-white/533412/
Westin, J. (2020). Opinion: The Equity Case for E-Bikes and E-Scooters in New York City. Retrieved 5 February 2020, from https://citylimits.org/2019/05/14/opinion-the-equity-case-for-e-bikes-e-scooters/
Winner, L. (2020). Do Artifacts have Politics: The Whale and the Reactor. [S.l.]: University of Chicago Press
Alani, H. (2020). Chicago Scooters Were Used To Fill Gaps In Public Transportation, With Many Ending Up At CTA Stations, Lime Says. Retrieved 5 February 2020, from https://blockclubchicago.org/2020/01/08/lime-scooter-riders-no-1-destination-was-the-damen-blue-line-stop-data-shows/
E Scooters. (2019). Retrieved 5 February 2020, from https://xkcd.com/2188/